Webster dictionary defines "smoothie" as: "a blended cold drink designed to make you super swole with the benefit of losing weight fast." In my opinion they are a great meal replacement(when made correctly) in which you can implement any other healthy ingredients you want, the options are unlimited. You are able to dial in the exact nutrition you want or need. They're quick to make and honestly very tasty(depending on what you add). I believe the blending aids in digestion as the mechanical aspect is already done for you and done more efficiently. Here are some of my objectives in creating a smoothie, you can click the pictures of these products I use to buy them on Amazon and I may receive a small commission.
My objectives
Protein: This is primary for me, I want the protein to help build muscle and burn fat. With a good protein powder you can easily supplement your protein intake in literally seconds without having to cook a bunch of meat and chew it all day, and worry about how much fat accompanies it. This saves a bunch of time without having to worry about whether it is ready to eat or if it has gone bad. Aside from smoothies you can put protein powder in water, milk, pancakes, and a ton of other tasty things. It's also cheaper than basically any other source of protein. The protein below also contains BCAAs , creatine and other great stuff.
Creatine: Creatine helps you build muscle as well as many other benefits throughout your whole body. I have recorded my results personally and know that it works. It's cost effective and basically the most popular and safest workout supplement you can get. Creatine is normally found in meat and fish, but requires even more meat or fish to get than protein does, making it great to supplement. The creatine below is mirconized to help absorption in your body.
Fruit: I don't usually eat fruit. But fruit is a good source of some vitamins, fiber, and carbs that are better for you than other sources of carbs. Smoothies are an easy way to incorporate fruit in a tasty and quick manner. I don't have a link for this, I get frozen fruit from the store. personally I like blueberries and bananas for fiber, anti oxidants and the taste.
Calories: To effectively replace a meal and have energy for your days or workouts you're going to need more calories than just protein and fruit. But you don't want just any calories. For this I add milk and peanut butter and likely a touch of honey, which contain some fat, protein, carbs and magical stuff(honey).
Ingredients:
1 scoop of protein powder
5g of creatine (2 tsp of the powder above)
1 banana
3/4 cup of blueberries or other fruit
1/2 cup of milk
1 Tablesoon of peanut butter
1 Tablespoon of honey
1 Teaspoon of ground cinnamon
How to prepare:
You can literally just throw all these things in a magic bullet or other blender and chug it down. Personally I make it the following way.
Fill the bottom of magic bullet cup with blueberries and the banana
Pour in the milk (the amount may need to be adjusted to leave room for the remaining ingredients)
Add the protein, creatine and remaining ingredients with the honey being the very last to add. The honey tends to sink to the bottom of the cup and will take longer to blend if it is not placed on top of everything.
Screw on the blades and blend! The magic bullet is great for this because it is made for a single smoothie and is easy to clean. Just blend it till everything is mixed and drink it from the cup or transfer to your preferred container. Rinse the blades and cup asap to make cleanup even easier.
Summary:
I love these smoothies, they give me the energy and nutrition I need in a short amount of time. Personally I have lost about 25 pounds in the last couple months drinking these and going on walks as well as other exercises. If you have any allergies to peanuts, you could use other nuts or hemp seeds or nothing. The milk can be replaced with almond milk, other milks, or just water.
Summary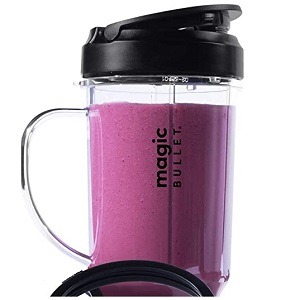 Recipe Name
Protein Smoothie Recipe For Muscle Gain And Weight Loss
Author Name
Published On
Preparation Time
Total Time
Average Rating





Based on 2 Review(s)